Complimentary Dinner Event at Union Hotel in De Pere, WI
Learning how to avoid costly mistakes may be the best investment you can make.​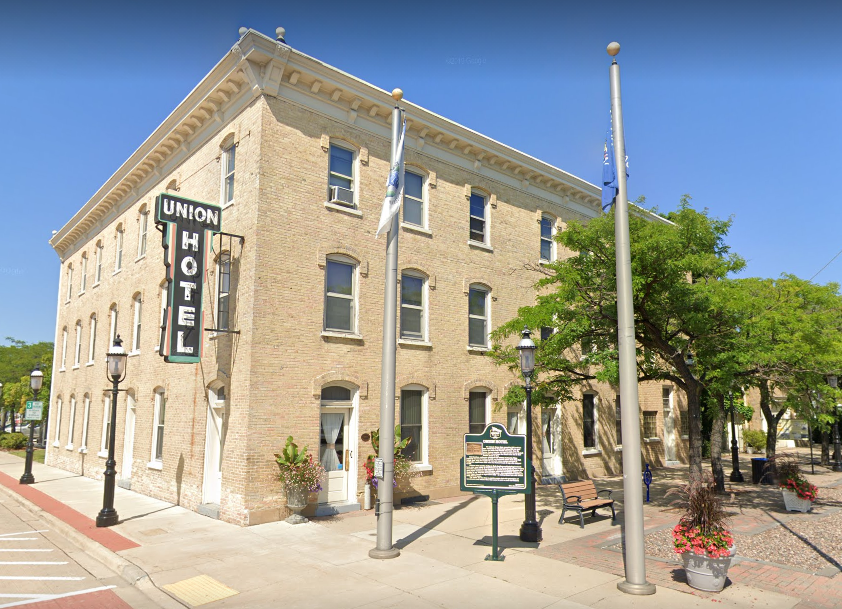 MENU
Your choice of a Tenderloin, Baked Atlantic Salmon or Cremini Mushroom Ravioli entrée.
Union Hotel
200 N Broadway
De Pere, WI 54115
Event Options:
– Union Hotel on March 23 at 6:00 p.m.
– Union Hotel on March 24 at 6:00 p.m.
Seating is limited. A complimentary meal will be served. Nothing will be sold and there is no charge to attend!
You are cordially invited to an informative dinner event for area residents who are retired or nearing retirement. This must-attend program is ABSOLUTELY FREE. There is no obligation and nothing will be sold. Enjoy a complimentary dinner, served after the presentation.
Well-known local retirement specialist, Eric Daggett, will reveal the latest proven techniques and strategies to possibly help you preserve your capital, get more income, decrease your risk and reduce your tax burden in retirement. You will leave with valuable information you can act upon immediately, such as:
What we'll cover:
The

advantages and disadvantages

of Wills and Living Trusts.

Possible strategies to use when structuring income to avoid Social Security tax.
Learn 7 of the most common mistakes retirees make and how to avoid them.
Market volatility and your retirement: Possible ways to keep the gains you made in the stock market and avoid history repeating itself.
Who should you talk to about your investments?
And MUCH more!
Privacy Policy: We protect your privacy. Information is confidential and never shared with any unaffiliated third parties. Please provide your best email and mobile phone to ensure delivery.
Do you have a retirement income strategy in place?
Don't miss this information-packed event!
This workshop combines two empowering elements:
Professional Insight
Live instruction from knowledgeable professionals, in an engaging, easy-to-understand format.
Actionable Next Steps
An opportunity to receive a complimentary retirement snapshot analysis for your current plan.
All attendees are eligible to receive a complimentary retirement snapshot analysis for their current retirement income plan.
Eric Daggett

,

Midwest Retirement Solutions
Eric joined Midwest Retirement Solutions as a partner in June of 2017. He brings his years of previous financial services industry experience and passion for helping others lead more financially stable lives to Midwest Retirement Solutions' focus on values-based retirement income planning.

Eric holds an insurance license in the state of Wisconsin and works with local lawyers in the areas of estate planning.

In his spare time, Eric enjoys spending time with his wife, Jennifer, and their two children. Eric is also an avid golfer, snowmobiler and lover of all things outdoors.
© 2022 Your Retirement Reality | Privacy Policy
¹ https://www.cnbc.com/2019/02/11/this-is-the-real-reason-most-americans-file-for-bankruptcy.html
² https://www.ebri.org/docs/default-source/rcs/2020-rcs/2020-rcs-summary-report.pdf?sfvrsn=84bc3d2f_7
The information contained herein is based on our understanding of current tax law. The tax and legislative information may be subject to change and different interpretations. We recommend that you seek professional legal advice for applicability to your personal situation.
By providing your information, you give consent to be contacted about the possible sale of an insurance or annuity product. Licensed Insurance Professional. Attend and learn how annuities and life insurance can be used in various stages of planning for retirement income. This presentation is not intended to be legal or tax advice. The presenter can provide information, but not advice related to social security benefits. Clients should seek guidance from the Social Security Administration regarding their particular situation. The presenter may be able to identify potential retirement income gaps and may introduce insurance products, such as an annuity, as a potential solution. Social Security benefit payout rates can and will change at the sole discretion of the Social Security Administration. For more information, please consult a local Social Security Administration office, or visit www.ssa.gov.